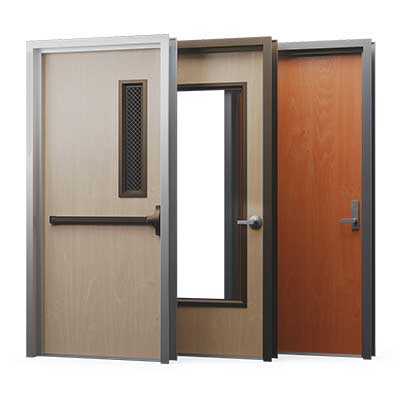 At Doortek commercial wood doors are available in hollow core and solid core construction for both interior and exterior applications. These doors are available in the following finishes;
Hardboard Flush Paint Grade Doors
Veneer Stain Grade Doors
Plastic Laminate (PLam) Doors
Smooth Finish Paint Grade Grooved Doors
Embossed Panel Doors
Moulded Panel Doors
Specialty Wood Doors
Fire Rated Doors
The above mentioned doors are typically used in high rise, mid rise, commercial office buildings, high end residential and a number of other commercial, industrial and institutional projects. Most of these doors are also available with fire rating certifications and durations of 20, 45, 60 and 90 minutes.
At Doortek, not only do we provide these doors but also the custom machining of these doors as per specific project requirement and respective hardware specifications.
When it comes to commercial door hardware there are several factors to take into consideration before selection. For example, door type, traffic through the door, finishing, safety, fire rating requirement and so on.
Metal frames are also available from 14ga to 20ga in drywall series, welded/masonry series, expandable/adjustable series, flush fit kerf series, transom/window/screen series and other specialty custom frames as per application requirement in both non-rated and fire rated certifications. Wood frames are also available according to project requirements and wood species.
At Doortek we supply a variety of knobs and levers with different functions such as dummy, passage, privacy, entry, storeroom, classroom and so on. Other than knobs and levers, we also supply commercial deadbolt locks, door closers, panic device or push/exit crash bar, door pulls, push plates, kick plates, commercial butt hinges, spring self closing hinges, interconnect door locks and many more as per project requirements based on different types of commercial grade standards and fire rating specifications.