Hollow Metal Doors & Windows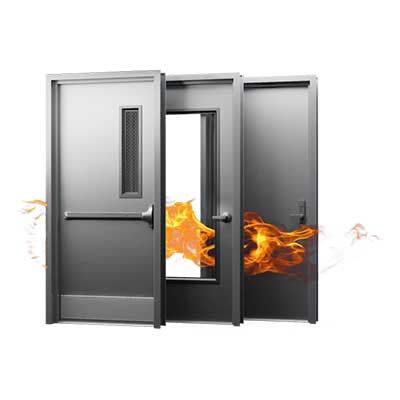 At Doortek we offer a complete line of fire rated steel doors, frames, window frames and related hardware for commercial, institutional and industrial applications for both Interior and Exterior applications.
Hollow Metal doors are available, insulated and non-insulated, from 14ga to 20ga in lock-seam series, universal lock-seam series, continuous welded series, embossed series, vision lite series and other engineered series as per application requirements in both non-rated and fire rated certifications from 45 minutes up to 3 hours.
Metal frames are also available from 14ga to 20ga in drywall series, welded/masonry series, expandable/adjustable series, flush fit kerf series, transom/window/screen series and other specialty custom frames as per application requirement in both non-rated and fire rated certifications.
Metal fire rated window frames are available in custom sizes along with respective fire rated certified glass made to meet code in any location where it is deemed necessary. Window frames are made of 14ga to 18ga steel with approved certification.
When it comes to commercial door hardware there are several factors to take into consideration before selection. For example, door type, traffic through the door, finishing, safety, fire rating requirement and so on.
At Doortek we supply a variety of fire rated hardware to compliment fire rated hollow metal doors and windows such as handles, hinges, door closers locks and many more as per project requirements based on different types of commercial grade standards and fire rating specifications.
Fire Rated Hollow Metal Doors & Windows